Festool Automotive Systems SYSTAINER T-LOC SYS T-LOC can be connected to Festool Automotive Systems SYS T-LOC for clear and organised arrangement of small parts, accessories, abrasives, power tools and hand tools. Available in different sizes with flexible modules to meet requirement needs.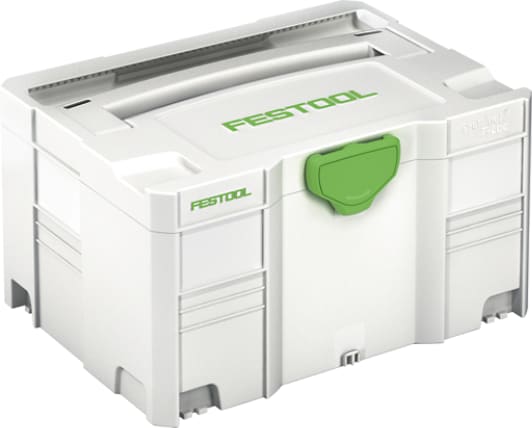 From the drawer system of the Sortainer to the Systainer chest, you'll never waste time looking again
The Deepest Compartment in a Systainer Sys-Combi
Featuring a deep (12 3/8", 315 mm) top-access compartment, our Festool Systainer T-LOC Sys-Combi 3 is a simple, effective way to secure and carry your tools — as well as the related accessories and consumables that you use along with them. It combines the Festool Systainer 3 with quick-locking, quick-opening T-LOC lid and a smooth, easily customizable locking drawer.
The 15 5/8" x 11 5/8" (396 x 296 mm) Systainer 3 weighs just 7.7 lbs (3.5 kg) when empty. The compartment accepts a range of removable inserts designed to securely hold specific Festool tools during transport. The T-LOC lid opens and locks closed with a single turn. A fold-down top handle provides plenty of clearance, making the Systainer 3 easy to grab and go even if you're wearing gloves.
Spend Less Time Searching, More Time Working
The built-in drawer (internal dimensions 14" x 10" x 2 3/4", 350 x 255 x 69 mm) on the Systainer T-LOC Sys-Combi 3 can be easily customized with light, quickly replaceable dividers that sort and hold consumables and accessories. The drawer provides plenty of space, but it remains flush with the bottom of the Systainer compartment — even if the contents of the drawer shift during transport, they will never block the drawer or interfere with its operation. The smooth-sliding drawer snaps closed easily and securely, preventing it from falling open and valuable equipment from scattering during transport.
T-LOC: Fast Connections for Efficiency
Through the T-LOC system, the Festool Systainer T-LOC Sys-Combi 3 connects quickly and easily to a vast range of related components in the Festool organization system. It locks easily to any Sys-Roll and Sys-Cart transporter for even greater mobility. It is also completely compatible with Classic Systainers 1 and 2, Maxi- and Midi-Systainers including inserts for hand tools, and Sortainers — a simple, flexible way to create your own most efficient flow of work. This is more than just handy. It's the basis of a well-ordered shop or worksite.
A Strategic Collaboration Between 3M and Festool
3M Automotive Aftermarket Division spans the globe, serving the automotive collision repair industry through more than 70 subsidiaries. 3M AAD has deep industry knowledge and maintains extensive relationships with collision-repair professionals. In collaboration with Festool Automotive Systems, 3M will now offer its customers an even stronger value. 3M best-in-class abrasives innovation, including 3M™ Cubitron™ II Abrasives, will now be offered in conjunction with premium Festool Automotive Systems surface prep tools, dust extraction capabilities and services, creating the most effective and comprehensive surface preparation and finishing systems in the automotive collision repair industry.
About Festool
For 90 years, Festool has been a manufacturer of premium power tools for the most demanding applications. With a well-earned reputation for innovation and quality, Festool makes power tools widely considered the best in the automotive repair marketplace, including pneumatic and electric sanders, polishers and backup pads, vacuums and surface-prep workstations. Beyond its existing products, Festool continues to develop a new line of connected "smart tools" to power the future of
collision repair
.
Learn More about the Total Automotive Sanding System
(PDF, 1.97 Mb)