Festool Automotive Systems Y-Piece, Antistatic is a Y-adapter and blanking plug that connects two suction hoses at once and caps off an unused inlet, ensuring full suction of the active line.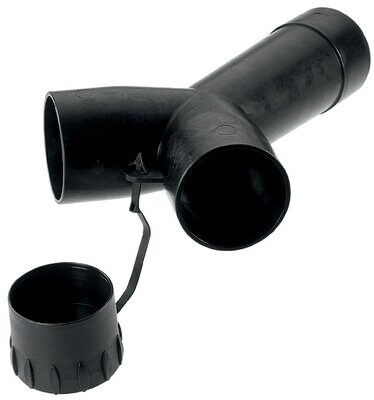 Adapter offers option of connecting two suction hoses
Work Smarter, Not Harder
When automotive body shop productivity is of the essence, the Festool Y-Piece Adapter, Anti-Static plays a vital role in increasing efficiency. Automotive technicians can connect multiple tools without the need to connect and disconnect the hose. This efficiency allows technicians to seamlessly switch between tools with less set-up work between tasks. Set includes both a Y-adapter and a blanking plug.
Anti-Static Property for Safety and Convenience
To achieve a cleaner work environment, Festool Y-Piece Adapter, Anti-Static offers properties to help prevent dust from accumulating on the exterior of the adapter. Anti-static properties also help you work more safely by preventing static discharge or shocks. Plus, you'll work more efficiently with a system that prevents clogging due to particulate buildup inside the adapter.
A Strategic Collaboration between 3M Automotive Aftermarket Division and Festool Automotive Systems
3M's Automotive Aftermarket Division spans the globe, serving the automotive collision repair industry through more than 70 subsidiaries. 3M AAD has deep industry knowledge and maintains extensive relationships with collision-repair professionals. In collaboration with Festool Automotive Systems, 3M will now offer its customers an even stronger value. 3M best-in-class abrasives innovation, including
3M™ Cubitron™ II Abrasives
, will now be offered in conjunction with premium Festool Automotive Systems surface prep tools, dust extraction capabilities and services, creating one of the most effective and comprehensive surface preparation and finishing systems in the automotive collision repair industry.
About Festool
For 90 years, Festool has been a manufacturer of premium power tools for the most demanding applications. With a well-earned reputation for innovation and quality, Festool makes power tools widely considered the best in the automotive repair marketplace, including pneumatic and electric sanders, polishers and backup pads, vacuums and surface-prep workstations. Beyond its existing products, Festool continues to develop a new line of connected "smart tools" to power the future of collision repair.
Learn more about Festool Automotive Systems
(PDF, 1.8 Mb)