Festool Automotive Systems Hose IAS 3 is durable and pliable – ideal for auto technicians and work spaces used for collision repair. Available in 5 m and 7 m, it includes a rotating connector that prevents twisting and makes for smoother, less constricted compressed air sanding.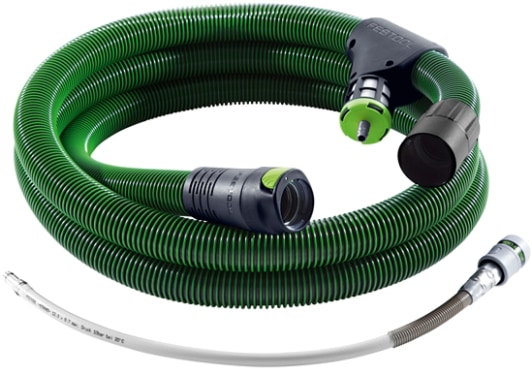 Rotating connector prevents twisting so operator can keep sander level with work
A Compressed Air Hose for Cleaner, Safer and More Efficient Sanding
Designed for use with Festool LEX 3 and LRS sanders — especially when oils or oily compounds are required — the Festool IAS AS Hose is part of a complete Festool system for you, your auto technicians, and your work space in collision repair. Durable, pliable Festool IAS AS Hoses hold up during heavy use and won't kink for longer service life. These hoses are designed to withstand temperatures up to 158°F (70°C). They are available in 11.5 ft. (3.5 m), 16.5 ft. (5 m) and 22.9 ft (7 m) and include a rotating connector that prevents twisting and makes for smoother, less constricted compressed air sanding.
The 3-in-one internal design of the Festool IAS AS Hose combines air supply, exhaust and dust extraction, all through a single hose. For a start, this leads to fewer hoses, fewer tangles and greater efficiency. Moreover, the hose captures cold exhaust and prevents it from transferring onto the user's arms and hands for safer operation and, when sanding with oils or oily compounds, prevents oils from forming on the external surface of the hose.
Antistatic for a Better Work Space
The Festool IAS AS Hose also features an antistatic design that prevents dust from accumulating on the outside of the hose, and prevents particulates from building up inside for greatly reduced clogging and downtime. This design also helps you work more safely by preventing static discharge and related shocks.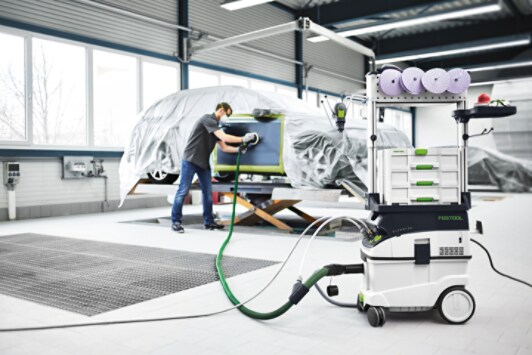 Compact yet effective, lightweight yet powerful
More About Festool Dust Extraction
A vital component for connecting Festool compressed air sanders to a Festool mobile dust extractor or energy box, the Festool IAS AS Hose is compatible with the IAS 3 interface (for use with Festool LEX 3 and LRS compressed air sanders). The interface includes a rotating adapter at the tool which turns as you work, preventing the hose from twisting or kinking and helping you maintain easy, smooth operation. Hoses connect to a wide range of Festool CLEANTEC Mobile Dust Extractors.
A Strategic Collaboration Between 3M Automotive Aftermarket Division and Festool Automotive Systems
3M's Automotive Aftermarket Division spans the globe, serving the automotive collision repair industry through more than 70 subsidiaries. 3M AAD has deep industry knowledge and maintains extensive relationships with collision-repair professionals. In collaboration with Festool Automotive Systems, 3M will now offer its customers an even stronger value. 3M best-in-class abrasives innovation, including 3M™ Cubitron™ II Abrasives, will now be offered in conjunction with premium Festool Automotive Systems surface prep tools, dust extraction capabilities and services, creating one of the most effective and comprehensive surface preparation and finishing systems in the automotive collision repair industry.
About Festool
For 90 years, Festool has been a manufacturer of premium power tools for the most demanding applications. With a well-earned reputation for innovation and quality, Festool makes power tools widely considered the best in the automotive repair marketplace, including pneumatic and electric sanders, polishers and backup pads, vacuums and surface-prep workstations. Beyond its existing products, Festool continues to develop a new line of connected "smart tools" to power the future of collision repair.
Learn More about Festool Automotive Systems
(PDF, 1.8 Mb)