Festool Automotive Systems Multifunctional Stool MFH 1000 is a combination work stool and storage cabinet. It's made of a durable, steel construction with generous drawer and deep internal shelf with pegboard sides. The casters provide easy-rolling mobility.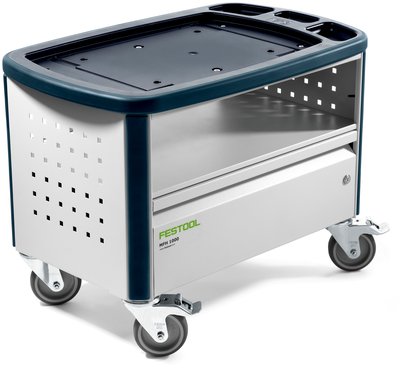 Drawer, shelf and pegboard slides provide work space and storage
Helping Auto Technicians Work Better
Combining a work stool with a storage cabinet, the Festool Multifunctional Stool MFH 1000 offers the versatility of comfort and convenience in the automotive body shop. The unit consists of a durable, steel construction mobile work stool with the added benefit of a storage chest. A sturdy, generous drawer and deep internal shelf with pegboard sides provide ample storage options that can be easily customized to meet specific needs.
Stool Offers Comfort
By giving workers a place to sit, the stool reduces the fatigue that often occurs with tedious sanding and assembly work while standing. Greater worker comfort means more focus and energy is directed to the task at hand rather than personal discomfort issues.
Tools and Supplies Close at Hand
Offering convenient storage capacity, the stool keeps the most essential tools within easy reach of workers. That means less time walking around the shop hunting for equipment, a time saving and productivity benefit.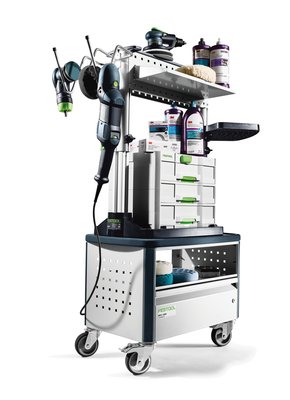 Organization system helps reduce cleanup and enhance workplace efficiency
Go Anywhere Convenience
Heavy duty casters mean you can roll right to the work location without any lifting of the stool. The casters roll smoothly and effortlessly. A simple locking mechanism keeps the stool in place when you want to be stationary.
A Strategic Collaboration between 3M Automotive Aftermarket Division and Festool Automotive Systems
3M's Automotive Aftermarket Division spans the globe, serving the automotive collision repair industry through more than 70 subsidiaries. 3M AAD has deep industry knowledge and maintains extensive relationships with collision-repair professionals. In collaboration with Festool Automotive Systems, 3M will now offer its customers an even stronger value. 3M best-in-class abrasives innovation, including
3M™ Cubitron™ II Abrasives
, will now be offered in conjunction with premium Festool Automotive Systems surface prep tools, dust extraction capabilities and services, creating one of the most effective and comprehensive surface preparation and finishing systems in the automotive collision repair industry.
About Festool
For 90 years, Festool has been a manufacturer of premium power tools for the most demanding applications. With a well-earned reputation for innovation and quality, Festool makes power tools widely considered the best in the automotive repair marketplace, including pneumatic and electric sanders, polishers and backup pads, vacuums and surface-prep workstations. Beyond its existing products, Festool continues to develop a new line of connected "smart tools" to power the future of collision repair.
Learn more about Festool Automotive Systems
(PDF, 1.8 Mb)