Festool Automotive Systems Sanding Pad ST-STF is a multi-Jetstream, high performance sanding pad with high temperature durability burr and high edge solidity. It's available in ultra-soft, soft or hard versions.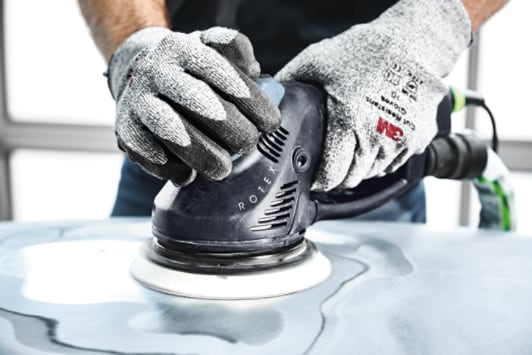 This pad is compatible with all LEX 3 and ETS EC sanders
Ultimate Dust Extraction Capabilities
For high efficiency dust extraction, Festool Sanding Pads ST-STF features a multi-jet stream design that can capture up to 99% of dust and last up to 30% longer. These pads have a 9-hole design that aids in the consistent extraction of dust particles. Efficient dust extraction allows the disc and pad to run cooler, which helps with loading of the abrasive.
A Family of Versatile Pads
The ultra soft pad is ideal for rounded contours and chambers; it has an elastic structure with a hardness grade of SW. The soft pad offers high temperature durability with high edge solidarity for tough applications and universal use; it has a hardness grade of W-HT. The hard pad offers high temperature durability with high edge solidarity for flat surfaces; it has a hardness grade of H-HT. Whichever hardness level you need, these pads deliver truer running performance for smoother surfaces, less vibration and longer life. All versions have an M8 connecting thread. Use these pads with the following tools models: ETS EC and LEX 3.
A Strategic Collaboration between 3M Automotive Aftermarket Division and Festool Automotive Systems
3M's Automotive Aftermarket Division spans the globe, serving the automotive collision repair industry through more than 70 subsidiaries. 3M AAD has deep industry knowledge and maintains extensive relationships with collision-repair professionals. In collaboration with Festool Automotive Systems, 3M will now offer its customers an even stronger value. 3M best-in-class abrasives innovation, including
3M™ Cubitron™ II Abrasives
, will now be offered in conjunction with premium Festool Automotive Systems surface prep tools, dust extraction capabilities and services, creating one of the most effective and comprehensive surface preparation and finishing systems in the automotive collision repair industry.
About Festool
For 90 years, Festool has been a manufacturer of premium power tools for the most demanding applications. With a well-earned reputation for innovation and quality, Festool makes power tools widely considered the best in the automotive repair marketplace, including pneumatic and electric sanders, polishers and backup pads, vacuums and surface-prep workstations. Beyond its existing products, Festool continues to develop a new line of connected "smart tools" to power the future of collision repair.
Learn more about Festool Automotive Systems
(PDF, 1.8 Mb)