A kit containing items necessary to get started with 3M`s Dynamic Mixing System: Applicator, Nozzles, and Accessories.
Filler or glaze and hardener are self-contained in compact cartridges that twist into place on the applicator
Simply pull the trigger to automatically mix and dispense the perfect amount of adhesive, sealer or body filler with our 3M™ Dynamic Mixing System. This 3M™ Dynamic Mixing System Introductory Kit will get you started with body filler, but you can easily expand your options with other components and cartridges sold separately as your needs expand.
We designed the 3M™ Dynamic Mixing System to offer these benefits:
Reduce pinholes
Due to the sealed environment of the Dynamic Mixing Nozzle, no air infiltrates the mixing of body filler and plastic repair solutions giving a high-quality finish, reducing the need for additional applications.
Reduce waste
By taking the applicator to the job and mixing "product-on-demand," you don't lose what you don't use.
Easy sanding
3M's premium Body Fillers and Glazes are easy to sand and produce high quality finishes.
Enhance productivity
With the speed and ease of use of the Dynamic Mixing System Applicator you can reduce cycle time by getting the job done faster with a higher quality repair.
Potential Increased Profits
DMS Cartridges feature an accurate gauge that shows precisely how much material is being delivered. This allows shops to accurately track and document how much product is used on each repair order, ensuring accurate usage that streamlines and improves profitability.
Discover the advantages of components used with the 3M™ Dynamic Mixing System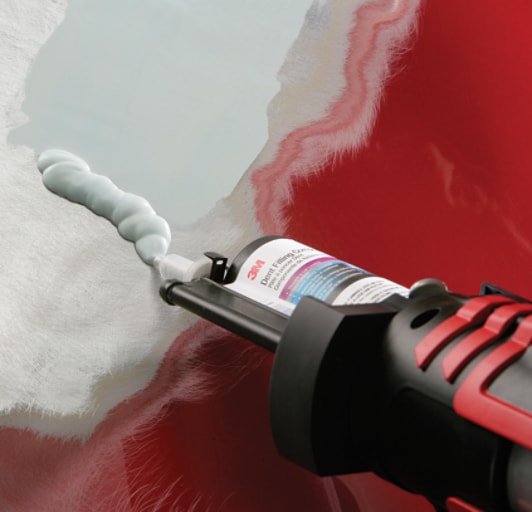 The innovative mixing nozzle prevents over-catalyzation by blending a perfect ratio
The Applicator
Once you grab hold of the Dynamic Mixing Gun, you won't want to put it down. Powered by your shop's pneumatic air system, this easy-to-use, ergonomically-styled device fits any grip and is always ready when you are to dispense "Product-on-Demand." Its durable construction is built to last long and stand up to heavy-duty performance, day in and day out. It's the cool new tool that helps get the job done faster, with outstanding results. |
Learn More
The Mixing Nozzles
Get the perfect mix ratio every time! Our innovative mixing nozzle prevent over-catalysation by blending materials at a fixed ratio, eliminating instances of staining. And since no air is introduced during cartridge manufacture or while the components are being mixed in the nozzle, significant pinholes are prevented. |
Learn More
The Cartridges
This product on demand system reduces traditional product waste — simply take the applicator to the car and use just the amount you need. With an easy-to- read gauge, you know exactly how much material has been applied and how much is left in the cartridge for your next use.
The Products
Our introductory kit gets you started with body filler. But once you get comfortable with the system, a variety of adhesives, sealants, fillers and glaze products are available for use with 3M's Dynamic Mixing System. Multiple work times and viscosities make it easy to customize the system for the way you and your shop need to work. Whichever formulation is used, you can be confident of a high quality repair. |
See More
Learn More about the 3M™ Dynamic Mixing System
(PDF, 2.13 Mb)