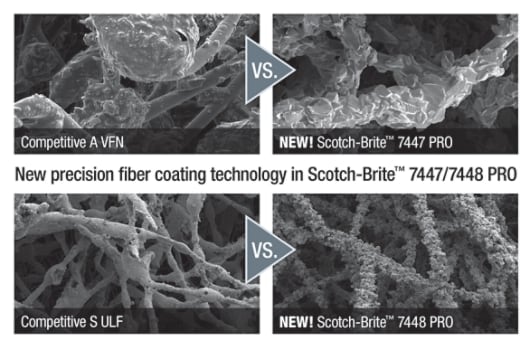 Unique fibre coating capability assures a fast, consistent scratch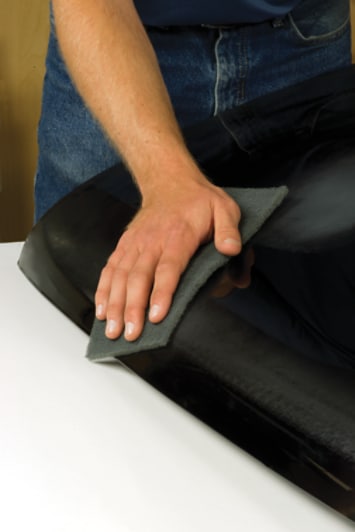 Ideal for everyday uses like prepping surfaces for color coat, general scuffing, cleaning and hand blending
Great for

Cleaning, Finishing and Buffing
Unlike fine steel wool, Scotch-Brite PRO pads will never shred during use, rust after use, or leave fine metal splinters. The durable open-web construction is load resistant, offers long life and consistent abrasive action for cleaning, finishing, and buffing with no need to adjust, turnover, or continue the same project with a new pad. The pad gets into corners and works detailed surfaces without altering the dimensions of the base material. Designed to run cleaner and longer than steel wool, this versatile pad is a useful item for any workshop. You can use the Scotch-Brite 7448 PRO Hand Pad right out of the box by hand, paired with a hand pad block, or run on an in-line sander for faster completion on larger areas.
We filled this grey pad with silicon carbide abrasive mineral, a synthetic mineral that is very sharp and commonly used for low-pressure applications such as paint prep. While it breaks down faster than aluminum oxide, it produces a superior finish.
The Scotch-Brite PRO Advantage
Scotch-Brite™ PRO is a unique surface conditioning product with abrasives incorporated into non-woven nylon fibers. Breakthrough fiber coating technology allows Scotch-Brite™ PRO abrasive products to cut faster and produce a more consistent scratch than competitive Non-woven abrasive products, reducing the time and effort it takes to finish parts. Combining abrasives with the fibers gives you an abrasive system that delivers consistent results for the life of the product. The open-web material is load resistant and keeps the abrasive minerals cutting at high performance by limiting clogging of the nylon fibers.