3M Aerospace offers an effective and economical solution to protect vital surfaces of your aircraft from erosion and FOD. Our 3M™ Polyurethane Protective Boot SJ8641 is thermoformed for a custom fit and will protect its corresponding component against paint chipping, moisture, staining and abrasion throughout the flight envelope.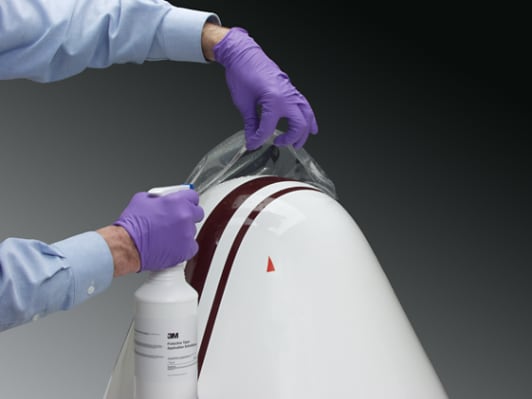 3M™ Polyurethane Protective Boots provide excellent impact protection for your aircraft, from radomes to navigation light lenses
We fabricate the 3M™ Polyurethane Protective Boot SJ8641 from tough polyurethane and pre-form it for exact-fitting, high impact protection. This protective boot is paintable and can be applied over painted surfaces and forms a protective barrier between vulnerable surfaces and damaging elements. These products perform equally well on metal and composite materials. Our boots are one of the most economical and effective solutions available to protect those high value assets that are subject to damage.
Future Proof Your Aircraft
3M™ Polyurethane Protective Boots provide excellent impact-erosion protection for your aircraft, from radomes to navigation light lenses and help keep these vulnerable components looking good between heavy maintenance intervals. We manufacture a complete line of polyurethane protective boots in a variety of shapes to custom fit hundreds of components and allow you to match specified paint scheme colors. We have over 500 boots sizes for general aviation, military, transport, cargo planes and commercial aircraft.
Adhesive, Backed by Decades of 3M Science
We use acrylic adhesive for its ability to wet out the surface for a strong bond. Acrylic adhesive also provides good aging and UV resistance. A strong, reliable bond combined with our resilient polyurethane material will help you realize significant savings on maintenance with this cost-effective solution to protect high-erosion surfaces and keep your aircraft looking their best.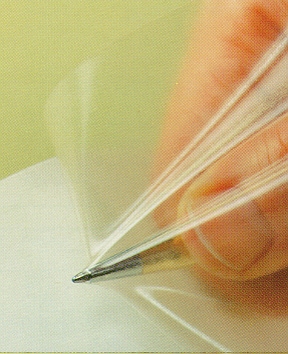 Part of a 3M family of high performance surface protection products resistant to abrasion, erosion, scratching, punctures, and impact
Protection Begins at the Surface
Prevent paint and surface erosion, even on the most vulnerable leading surfaces of your aircraft such as radomes, wing tips, wing root fairings, horizontal stabilizer tips, tail fairings, spinners, landing gear components and more. Our line of protective boots provide many years of paint erosion protection, making them a cost effective aircraft paint and surface protection solution. For aircraft radomes, their optimized thickness is virtually invisible to radar. Protect your investment by protecting against erosion.
Goes on Easily, Stays on Durably
We make them extremely simple and easy to install. Once installed, they establish an excellent erosion barrier. The boots are also resistant to abrasion, erosion, scratching, punctures, and impact, which helps maintain appearance. Our polyurethane material is extremely tough and durable, providing years of reliability. It combines a number of unique properties that makes our protective boots extremely effective at preventing damage caused by abrasion, erosion, minor impact, and fluids. Our entire line of polyurethane protective boots provide excellent surface protection against damage caused by moisture, wind, sand, rain, sleet, snow, and other airborne particles.
Learn More about 3M™ Polyurethane Protective Boots
(PDF, 1.08 Mb)
Our Best for Your Best
3M is proud to partner with organizations across the spectrum of aerospace and offer products that impact the lifecycle and maintenance of aircraft. Creating efficiencies, protecting surfaces, reducing process times and lowering aircraft weight is how we execute our never-ending mission to offer best-in-class adhesives, sealants, surface protection and other products that effectively reduce costs on multiple fronts. Professionals across the industry know the cost-saving advantages of
3M Aerospace
. Our brand is widely recognized for the highest standards of quality and performance and adds value to the final results. By engineering reliability, longevity and performance into all of our products, we have a history of saving money by reducing waste, rework and time. If you don't see the boot you need, please contact us for information on how to create a new boot design to fit your application.
See Also: