3M™ Glass Bubbles HGS4K28 are hollow microspheres made of soda-lime borosilicate glass with a true density of 0.28 g/cm³ and an isostatic crush strength of 4,000 psi / 280 bar.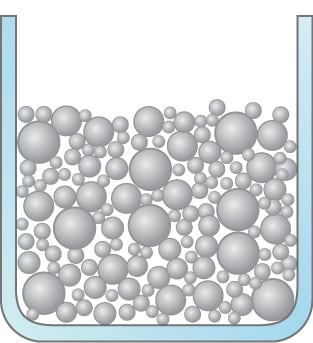 Higher filler loading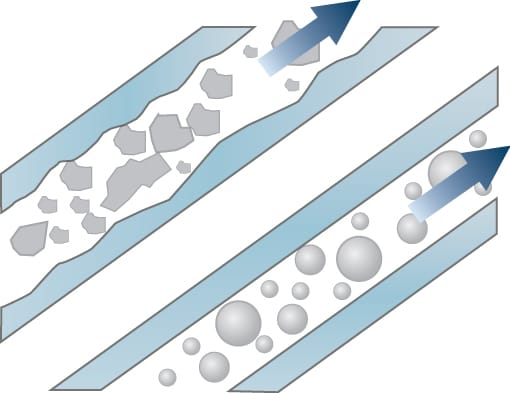 Lower Viscosity
Subsea Flowlines
What does this mean for the oil and gas industry? Conventional flowline construction, such as pipe-in-pipe, is proving to be impractical and too costly for use at today's deeper depth oil and gas drilling (10,000 ft. /3,000 m. and more). Although pipe-in-pipe offers the best U-value (insulating value) and longest cool-down times, the added weight and bulk of its construction can make it more difficult and costly to lay — and too heavy to support in deeper waters, which is of particular concern when using drilling risers.
Importantly, there are some peripheral subsea hydrocarbon reservoirs that are economically viable at reach-out distances of 31 miles (50 km), or more. Longer subsea pipe lengths coupled with hotter drilling conditions require flowline insulation with increased mechanical strength and reduced heat transfer. 3M glass bubbles provide the solution to this drilling need. Using glass bubbles in syntactic foam insulation creates a pipeline that can stand up to demanding depth, pressure and temperature conditions.
Consider the benefits of alternatives, such as wet insulated pipe or flexible insulated flowlines. Both options consist of a single pipe coated with 3M glass bubble-filled syntactic foam insulation coatings, such as syntactic urethane. These pipes are less than half the weight of pipe-in-pipe, making them more practical for use at greater depths and in longer runs. Additionally, because this construction reduces overall pipeline diameter, more pipe can be wound per spool, requiring fewer and smaller ships — making installation faster, easier and more economical. Because of these, and many other factors, wet pipe insulation now accounts for the majority of all new deep water subsea flowlines.
Paints and Coatings
3M glass bubbles S32 can be used for a variety of applications. One popular use outside of the oil and gas industry is in architectural paints and coatings. When added to paint formulations, our 3M glass bubbles S32 help deliver durable goods to your customers, helping to protect painted surfaces against wear and tear. When added to spackling compounds, 3M glass bubbles allow the spackling compound to dry smooth — without cracks or blemishes — for a superior finished look. With these properties, 3M glass bubbles represent a superior alternative to many conventional fillers and additives such as silica, calcium carbonate, talc, clay, and other materials used in demanding applications. Due to their unique physical properties, glass bubbles have also found use in areas such as roof coatings due to their enhancement of solar reflective properties.
Applications
Paints and coatings
Thermoset rubber and plastic
Insulation and buoyancy
Thermal insulation
Wet pipe flowline insulation
Syntactic urethane
Learn more about 3M™ Glass Bubbles for Buoyancy and Thermal Insulation
(PDF, 770.9 Kb)