Bond metal parts prior to paint processing with 3M™ VHB™ Tape 4655. Our tape is clean, durable and strong with excellent temperature resistance. It's a firm double-sided, pressure-sensitive, closed-cell acrylic foam tape with a PE film liner.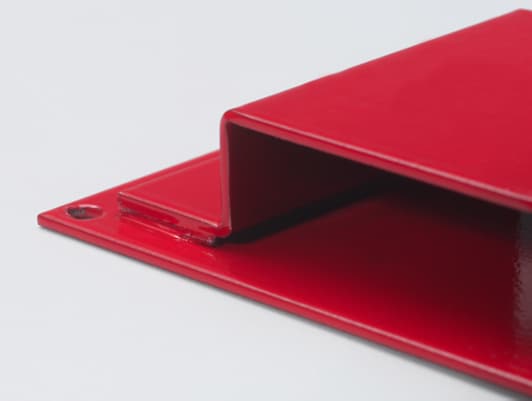 3M VHB Tape 4655 can be used in high temperature paint processes
Recommended Applications
Stiffener to panel
Panel to frame
Decorative material and trim
Nameplates and logos
An Unconventional Foam Tape
We invented 3M™ VHB™ Tapes in 1980 as the first of their kind. These unique tapes combine conformability with a strong, permanent bond. The result is a family of extraordinarily strong tapes that adhere to a broad range of substrates. 3M™ VHB™ Tape is a proven alternative to screws, rivets, welds and other forms of mechanical fasteners. Skyscrapers, cell phones, electronic highway signs, refrigerators, architectural windows and more all rely on this specialty bonding tape for one or more steps in the assembly, mounting, fastening and sealing process. This trusted and reliable tape offers a consistent bond, outstanding durability and excellent solvent and moisture resistance. 3M stands by all of its products and is there to provide you with design guidance and technical support when you need it.

Proven Reliability from 3M™ VHB™ Tapes
3M™ VHB™ Tape offers a durable bond in a way that mechanical fasteners can't. This tape enhances the appearance of finished goods by eliminating rivets and screws while providing immediate handling strength. In most cases, fastening with 3M™ VHB™ Tape is a quicker process than drilling, fastening, or using liquid adhesive. Our versatile line of tapes can be used indoors or outdoors in a variety of applications, including window, door and sign assembly, electronics, construction and countless other industrial applications. Chemically resistant as well as UV and temperature stable, 3M™ VHB™ Tape can withstand the heat of Dubai to the cold of Canada. The unique acrylic chemistry is extremely durable and resistant to change over time, making this a long-lasting and powerful tape you can trust.

Bringing Better Ideas to the Surface through Science and Innovation
In our 3M Industrial Adhesives and Tapes Division, we apply the science of adhesion to deliver innovative solutions that improve the design and manufacturing processes of companies around the world. In the end, our technologies help customers like you deliver competitive products to the market faster and more efficiently.