3M™ Edge Sealer ES2000 is a two-part edge sealer. It is a clear, non-yellowing and UV stable, durable sealer system having excellent resistance to environmental and ultra-violet (UV) exposure.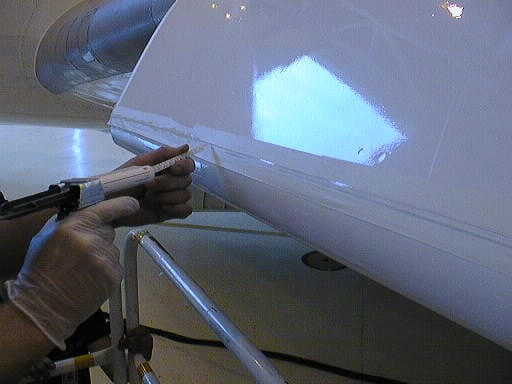 Clear, non-yellowing, durable sealer system that provides excellent resistance to environmental exposure
3M™ Edge Sealer ES2000 forms a watertight, weather-resistant seal that holds firmly throughout the entire flight envelope and its flexibility allows for dissipation of stress caused by shock, vibration, swelling or shrinking.
Our two-part polyol/polyisocyanate edge sealer is fluid resistant and forms a tough edge seal for aviation applications. The clear, non-yellowing and UV stable formula provides a lasting hold and superior aesthetics. With the convenience of our Duo-Pak cartridges, 3M™ Edge Sealer ES2000 dispenses easily for a precise bond line when using our
EPX Plus II Applicator
, sold separately.
Learn More about 3M Surface Protection Accessories
(PDF, 2.26 MB)
Our Best for Your Best
3M is proud to partner with organizations across the spectrum of aerospace and related industries. Enabling efficiencies, reducing process times and lowering aircraft weight is how 3M executes its never-ending mission to offer best-in-class adhesives, sealants, surface protection products and composite resins that effectively reduce costs on multiple fronts. Professionals across the industry know the numerous advantages of
3M Aerospace.
The brand is widely recognized for the highest standards of quality and performance, adding value to the final results. By engineering reliability, longevity and value into all of its products, 3M has a history of saving money by reducing waste, rework and time.