Made of fine wool fibers stitched into a polyester backing. Has 11/16 in. trim length. Pad is prewashed to reduce lint. Designed with a Hookit™ attachment system and 5-1/4 inch diameter buffing pad for use with Finesse-it™ polishes.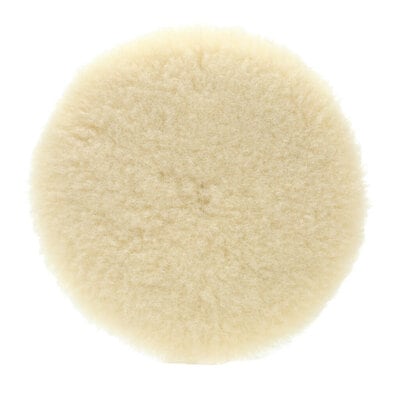 Pad is pre-washed to reduce lint
Wool — More Aggressive, Works Cooler
The 3M™ Perfect-it™ II Wool Compounding Pad is made from 100 percent fine wool fibers stitched onto a durable polyester backing. The dense .68-inch pile height distributes and applies material evenly and consistently, refining scratches and paint surface defects.
More aggressive than foam pad, wool dissipates heat far better, leaving working surfaces cooler. The pad's natural fibers are tapered, don't splatter applied materials and leave fewer scratch marks. This pad is prewashed to reduce lint.
The Hookit™ hook-and-loop attachment system makes attaching, removing and re-attaching to your rotary buffer simple and provides a secure connection even in heavy-duty applications.
A Portfolio of Solutions
Used with
Finesse-it™ polishes
, this wool compounding pad is just one of 3M's portfolio of products that, used in combination as prescribed, optimize your results to leave the most perfect finish possible. The Perfect-It™ brand means this is 3M's highest performing single-sided wool compounding pad. And, as with all 3M products, it's manufactured for consistency and quality, to provide optimal results within the 3M Perfect-it system.